About the Lab
The Living Lab for Health seeks to solve complex health challenges through people-centered innovation processes.

We implement integral interventions through innovation networks
Living Lab for Health's mission is to facilitate multi-stakeholder innovation networks to solve complex and persistent health challenges and increase collective impact through system innovation.
Living Lab for Health focuses on challenges that require the integration of mutual learning and knowledge. The aim is to design and implement integral and high-leverage interventions by taking into account key leverage factors in different areas where change is needed (social, technological, R&I, environmental, economic, political, and institutional).
Innovation networks are facilitated in order to collectively design and implement integral interventions through more mutually reinforcing, decentralized, and collaborative approaches. Operating within methodological frameworks aimed at increasing the impact of R&I, Living Lab for Health conducts research to innovate in its approaches and disseminate its work.
Addressed are two different categories of complex health challenges:
Health protection and promotion challenges, such as healthy and sustainable nutrition, affective and sexual health, mental health, and COVID-19 prevention.

Prevention, diagnostic, and therapeutic challenges, as reflected in a variety of comorbid conditions or the need to consider a wide diversity of factors, such as happens with long COVID.
As a think-tank, participated in by a wide range of actor, Living Lab for Health represents a space for strategic reflection, learning, exploration, and co-creation of transdisciplinary knowledge and interventions.
As one of its projects, Living Lab for Health co-coordinates, with the Barcelona Institute for Global Health (ISGlobal), the Barcelona CaixaResearch Living Lab initiative launched by Barcelona City Council and "la Caixa" Foundation, where our contribution is the promotion of systemic health innovation in the city of Barcelona, IrsiCaixa, and the Germans Trias i Pujol University Hospital.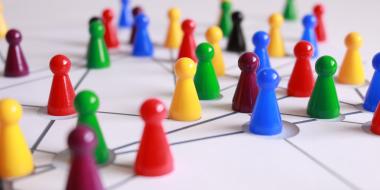 Stakeholders vary according to the health challenge addressed is scientific-technical or socio-technical, and come from both non-academic and academic sectors, including universities, healthcare services, social services, cultural centres, the educational community, the private sector, the third sector, public administration bodies, patients, and citizens.
In focusing on achieving our goals, Living Lab for Health has accumulated more than 15 years of experience in transformative R&I, education, and science communication, as endorsed by its participation in a wide range of competitive projects (12 financed by the European Commission) and by training delivered to some 6,000 professionals, mainly from the academic sector.
All Living Lab for Health activities are possible thanks to the collective impact of a team of committed and motivated professionals: