Who we are
The IrsiCaixa AIDS Research Institute is an international leader in HIV/AIDS research and a landmark in the study of emerging infectious diseases, microbiome and cancer.

A unique model of collaborative research
IrsiCaixa was created as a private non-profit foundation in 1995 with the support of "la Caixa" Foundation and the Ministry of Health of the Autonomous Government of Catalonia.
Its director is Dr Bonaventura Clotet, who is also president of the Fight Infections Foundation and the Catalan Health Institute (ICS) Clinical Director for Infectious Diseases for the Barcelona Northern Metropolitan Area.
IrsiCaixa is located in the Germans Trias i Pujol University Hospital, next to the Fight Infections Foundation, which makes for a unique model of collaboration between researchers, healthcare providers, patients, and community representatives. This transfer of knowledge between key stakeholders makes for novel solutions that facilitate progress towards eradication of HIV/AIDS, as well as better treatment for emerging infectious diseases and studies of the microbiome and cancer.
IrsiCaixa's 12 research groups and around 100 staff coordinate with research and healthcare centres around the world in carrying out translational research. The resulting publications are among those with the highest impact factors in the field of infectious diseases.
Science as a tool to put an end to infectious diseases
IrsiCaixa's scientific strategy focuses on studies of the immune system as the central axis of human health. With more than 25 years' experience in this field, IrsiCaixa has become a pioneer in the development of immunotherapies and vaccines to boost the immune system, reinforcing its capacity to fight off infectious and related diseases. IrsiCaixa's strategic research lines also address basic research into how diseases work and what effect they have on the human body, as this kind of deep and detailed knowledge is crucial to applied and translational research.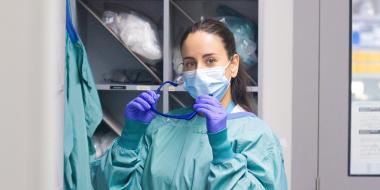 Health promotion with and for society