Study shows efficacy of remdesivir in preventing severity of COVID-19 and European Commission extends its use in people at risk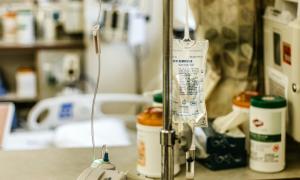 Remdesivir will also be used in adults susceptible to developing severe COVID-19, even if they do not require supplemental oxygen | This has been announced by the European Commission, supported by a study in which IrsiCaixa physician and principal investigator Roger Paredes has participated
Remdesivir (marketed as Veklury®) is approved for use in adults susceptible to developing severe COVID-19 who are in the early stages of infection and therefore do not require supplemental oxygen. This has been announced by the European Commission, supported by the results of an international study, with the participation of Roger Paredes, head of the Infectious Diseases Department at the Germans Trias i Pujol Hospital and researcher at IrsiCaixa and the Fight AIDS and Infectious Diseases Foundation. The study also involved the participation of the University Institute for Primary Care Research IDIAP Gol. The results were presented last October at the IDWeek conference and have already been published in the New England Journal of Medicine. The study aimed to assess the efficacy and safety of administering remdesivir intravenously over three days as a treatment for non-hospitalised patients at high risk of developing severe COVID-19 in 562 people. The results allowed the researchers to affirm that treating with remdesivir just after diagnosis of COVID-19 reduces the risk of hospitalisation and death in patients at risk of severe COVID-19 by 87%.
"As the number of COVID-19 positive cases rises again and new variants like omicron emerge, we need effective tools like remdesivir to treat various stages of the disease", explains Paredes. "We can now use remdesivir to help prevent high-risk people from progressing to more severe disease, even when they do not need oxygen, as well as continue to use this drug as a key tool in the treatment of severe disease. This latest approval will also help reduce pressure on healthcare systems, which are already under significant strain due to COVID-19", he concludes. "This type of patient is the one that is initially detected in primary care facilities. The good coordination and collaboration between primary care and specialised infectious disease care in our territory has been key to achieving the objectives of this study and shows us the way forward", highlights Pere Toran, coordinator of the Primary Care Research Unit of the Northern Metropolitan Area of the Catalan Institute of Health.
This new step forward by the European Commission follows the previous marketing authorisation of Veklury®, which already allowed the treatment of COVID-19 in adults and adolescents (aged 12-18 years and weighing at least 40 kg) with pneumonia and requiring supplemental oxygen.