HIV
Therapies
Viral reservoir
Simultaneous initiation of antiretroviral therapy and immunotherapy leads to better HIV control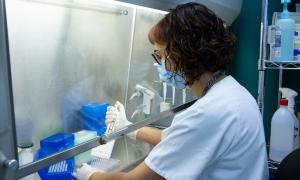 A study with the participation of IrsiCaixa and published in the journal Nature Medicine shows that starting the administration of an anti-HIV antibody and antiretroviral treatment at the same time would help to eliminate the virus and boost the immune response responsible for eliminating infected cells, reducing the HIV reservoir
Thanks to antiretroviral therapy, HIV infection has become a chronic infection that does not interfere with the daily lives of people living with the virus. However, there is no cure for the infection and people have to take daily medication because, if they stop, the virus rebounds. Now, a study published in the Nature Medicine journal in which the IrsiCaixa AIDS Research Institute has participated, proposes a possible strategy to induce control of the virus without the need for treatment: the administration of an antibody right at the start of antiretroviral treatment. The clinical trial, led by Aarhus University Hospital (Aarhus, Denmark), has demonstrated that the administration of immunotherapy based on this antibody facilitates the elimination of HIV in the blood and improves the immune response capable of eliminating infected cells. In fact, participants with sensitive virus to the antibody, called 3BNC117, have been able to control HIV for longer during the 12 weeks of treatment interruption.
Until now, antibody immunotherapy studies have always been conducted with people who have been on antiretroviral treatment for an extended period of time. "These new results indicate, for the first time, that simultaneously administering immunotherapy and antiretroviral treatment could limit the persistence of HIV and this opens a new door to the scientific community that is researching the eradication of this virus," explains Javier Martínez-Picado, ICREA researcher at IrsiCaixa and co-author of the article.
Less virus and a stronger response to fight it
To reach these conclusions, the team conducted a phase 1b/2a clinical trial in 55 people who had just been diagnosed with HIV and were therefore starting antiretroviral therapy (ART). Of these people, 15 received antiretroviral therapy alone, while the rest were given antiretroviral therapy for one year together with the antibody 3BNC117, alone or in combination with romidepsin, a drug that has not been shown to have a significant effect in this setting.
After one year of treatment, the results show that HIV is cleared more quickly from the blood in the group of people who had received antiretroviral treatment and the 3BNC117 antibody, compared with those who had only received the treatment without immunotherapy. Not only that, but in people with sensitive virus, the number of infected cells susceptible to producing new virus decreased. "Thanks to a technique designed and patented by IrsiCaixa called VIP-SPOT, we can detect and quantify these cells which, in fact, are possibly responsible for the viral rebound suffered by patients when they abandon treatment," explains Mª Carmen Puertas, IrsiCaixa researcher and co-author of the article. These results, in part, may be due to an increase in protective cells specifically directed against HIV, a response of the immune system that is important for controlling the infection.
12 weeks without treatment
To determine whether immunotherapy has had any impact on viral control in the absence of antiretroviral therapy, 20 participants stopped treatment one year after starting it. The results show that most of the people (5 out of 6) with sensitive virus who had received antiretroviral treatment and immunotherapy maintained controlled viral load levels for 12 weeks. In contrast, people who had either received antiretroviral treatment in the absence of immunotherapy or had antibody-resistant virus had to restart treatment earlier.
Currently, the goal of HIV researchers is to find a strategy to control HIV without the need for treatment. "Results such as those obtained in this study show us possible ways to achieve this goal, that is, a functional cure. Despite the good news, more research is needed to design strategies that will prove effective for the entire population living with HIV," Martínez-Picado remarked.