New variant-adapted COVID-19 vaccines: where do we stand?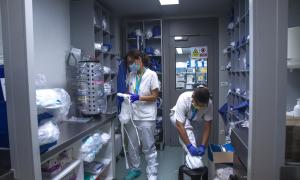 The Multidisciplinary Collaborative Group for the Scientific Monitoring of COVID-19, that counts with the participation of the IrsiCaixa researcher Julià Blanco, issues a series of recommendations based on the current status of the virus and the evidence on the new omicron-adapted vaccines
Just a few days ago, Spain began administering the fourth dose of COVID-19 vaccine to people over 80 years of age and those living in nursing homes. These fourth doses have something new: in addition to the original Spike sequence, they include the Spike sequence of the omicron variant (either BA.1 or BA.5). As emphasised by the Multidisciplinary Collaborative Group for the Scientific Monitoring of COVID-19 (GCMSC), promoted by the Barcelona Institute for Global Health (ISGlobal) and the Official College of Physicians of Barcelona (CoMB), older people and people with underlying health problems will benefit most from the additional protection offered by a booster with these new vaccines.
In a new document, lead by the IrsiCaixa researcher Julià Blanco, the GCMSC discusses the current status of the virus and the available evidence on new vaccines tailored to SARS-CoV-2 variants. The group's main messages are:
The BA.5 subvariant remains dominant in many regions, including Catalonia, but multiple descendants of BA.2 and BA.4/5 have been emerging with shared mutations that allow the virus to better evade antibodies generated by vaccination or previous infections.
For this reason, and because vaccine efficacy declines over time, a fourth dose is recommended for the most vulnerable populations (people aged over 60 or with comorbidities, as well as pregnant women), preferably with the new bivalent vaccines.
Although booster vaccines containing BA.5 are expected to be the most effective against the currently circulating subvariants, data indicate that any type of booster (original or variant-adapted) provides additional protection.
At the moment, a fourth dose is not recommended for people under 60 years of age and without medical indication, especially considering that a large part of the population was recently infected with Omicron. This may change if a (sub)variant with greater immune evasion capacity arrives.
The GCMSC also recommends maintaining the use of facemasks in certain places such as hospitals and nursing homes, and insists on the need to maintain viral surveillance globally, in order to detect new variants and mitigate their potential impact on diagnosis, vaccination strategies or treatments.