Long Covid in Catalonia: where do we stand?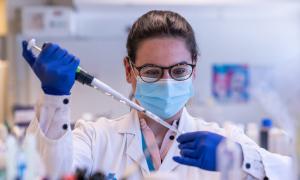 IrsiCaixa researchers, together with other health professionals, have carried out a detailed review of the current situation of Long Covid in Catalonia
Long Covid is still to this day one of the great unknowns brought about by the COVID-19 pandemic, and which has been defined by the World Health Organization (WHO) as a disease contracted by people with a history of probable or confirmed SARS-CoV-2 infection, usually within three months after the onset of COVID-19, with symptoms and effects that last at least two months and that cannot be attributed to an alternative diagnosis. Since the identification of the first cases of long COVID in early 2021, the Fight Against Infections Foundation, the Germans Trias i Pujol Hospital and IrsiCaixa created the Long COVID Unit to offer personalised care to those affected, as well as to promote scientific research in this field.
Given the need to continue generating knowledge about this condition, IrsiCaixa principal investigator Marta Massanella and the Fight Against Infections Foundation physician Lourdes Mateu, both co-coordinators of the COVID Persistente research, together with IrsiCaixa principal investigator Julià Blanco and head of the Infectious Diseases Service at Hospital Germans Trias i Pujol and IrsiCaixa principal investigator Roger Paredes have participated in the preparation of a document written by health professionals from all over Catalonia in which the current situation of persistent COVID in Catalonia is comprehensively analysed.
The report includes data on the prevalence of this condition in Catalonia, the care resources available, the opinion of the group of people affected by Long Covid, a description of the guidelines for the clinical management of patients with this condition around the world, a reflection on the current areas of uncertainty and, finally, proposals for improvement to meet the needs of the group of people affected.