IrsiCaixa researcher Sara Morón-López receives one of two global Gilead grants for HIV research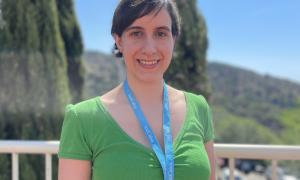 The $130,000 grant will enable the researcher to study how to eliminate HIV from the body, or keep it silenced, during the two-year project
In February 2021, after completing her postdoc at the University of California San Francisco, Sara Morón-López returned to IrsiCaixa. Specifically, she came back to the Retrovirology and Clinical Studies group, led by Javier Martínez-Picado, where she had already completed her PhD thesis studying HIV reservoirs, that is, the cells in the body in which the virus is able to hide and go unnoticed. But Morón-López has not returned alone. She has come back together with one of the two prestigious Gilead fellowships awarded worldwide this year in the field of HIV.
The grant, which consists of $130,000, will go entirely to IrsiCaixa during the two years of the study and will be used to continue the project that the researcher began during her postdoc at the University of California San Francisco. In the Californian laboratory, Morón-López and her team described the basic mechanisms that regulate HIV latency within the organism. That is, they determined which cellular processes allow the virus, once inside the cells it has infected, to remain silent. Now, thanks to the Gilead grant received at IrsiCaixa, the researcher will be able to continue advancing with the study. "We want to focus on this step, as it opens up different pathways at a therapeutic level," says the award-winner. "The process in which HIV may or may not become latent is a very interesting target when it comes to designing therapies because these can be aimed at boosting the silencing of HIV or, on the contrary, at activating the virus, causing the infected cells to be exposed and the immune system to eliminate them," adds the researcher.
This project is not the only one funded by Gilead, but it is one of the two projects in the HIV field worldwide. With this grant, the researcher at IrsiCaixa will face one of the greatest challenges in the fight against HIV, which is the study of the reservoir. "I feel very fortunate to receive a grant like this since it is a great recognition that will help us to continue advancing in the study of HIV latency," concludes Morón-López.