Sentinel Schools Congress: students present recommendations to improve COVID-19 prevention in classrooms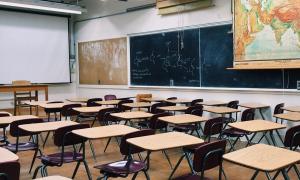 Students from different schools have actively participated in the Sentinel Schools project and today they will discuss their results with the scientific, educational and public administration community
Last year, the Department of Health and the Department of Education from the Catalan Government promoted the project Sentinel Schools, coordinated by the Center for Epidemiological Studies on Sexually Transmitted Infections and AIDS of Catalonia (CEEISCAT), with the aim of contributing to improve interventions for the prevention and control of SARS-CoV-2 in schools. Within this context and in the framework of the European project CONNECT, the Living Lab of Health of IrsiCaixa has invited students from fifth grade to first year of high school from several schools in Catalonia to actively participate in the study in order to carry out a research process that also includes the perspective of the educational community. In this framework, today takes place the Sentinel Schools Congress, in which students will present their recommendations for the improvement of COVID-19 prevention in schools, obtained from the bibliographic search of information and/or experimentation and collective reflections involving both students, teachers and families. The session count with the participation of scientists of the centres participating in the project, such as the Barcelona Institute for Global Health (ISGlobal), the Vall d'Hebron Hospital, the Germans Trias i Pujol Hospital and the IDIAP Jordi Gol, as well as other agents of the educational community and the administration.
These professionals will also present their preliminary results, organized in different work packages, which include conducting surveys and obtaining biological samples, assessing air quality in schools, studying transmissibility, and the methodology used to promote participatory research to obtain recommendations from the educational community. The students will then present some of the educational activities they have carried out in the framework of this project. Finally, the different conclusions will be discussed among the scientific and educational community, as well as with the different agents of the administration present at the congress.
During the research process, teachers, students and families have participated in the study as co-researchers, identifying concerns and needs in relation to the prevention of COVID-19, and writing recommendations for their improvement. "Research projects like Sentinel Schools are for and with the educational community, and we can reach that by involving this community within the project, making them participants and decision makers", explains Rosina Malagrida, head of the Living Lab of Health at IrsiCaixa, responsible for the participatory research work package of the Sentinel Schools project and partner of the European project CONNECT.
The involvement of various actors in this project allows taking into account a diversity of perspectives to optimize research results that best fit the needs and expectations of the educational community. On the other hand, it is an exercise that favors the science learning process while fostering interest in this field and improving competencies, skills and perceptions of scientific vocations, as well as the confidence of students to use the scientific method to solve real problems in their environment.