Secondary school students explore the Can Ruti Campus at the latest edition of Science Week in Badalona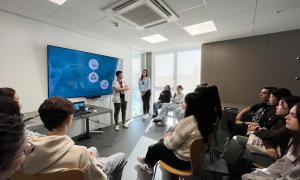 A group of 200 high school students from different high schools visited the institutions of the Can Ruti Campus, including IrsiCaixa
This year, and for the 28th consecutive year, the Generalitat de Catalunya, with the aim of bringing science and technology closer to the public, is organising Science Week from 10 to 19 November. In this new edition in Badalona, some 200 high school students from various secondary schools visited the Can Ruti campus on Tuesday 14 November 2023. The group of students were able to visit the different institutions on the campus, including IrsiCaixa.
The event kicked off at the auditorium of the Germans Trias i Pujol Hospital. Julia García Prado, IrsiCaixa principal investigator and IGTP scientific director, delivered a presentation highlighting the cutting-edge and collaborative research conducted on the campus. Following the introduction, the students gained insights into upcoming projects in the field of medicine through presentations by Can Ruti's emerging young researchers.
Subsequently, the students formed groups to embark on on-site visits to various care and research areas. Among the destinations were IrsiCaixa and the Fight Infections Foundation, where students were able to see the facilities where biomedical research is carried out at both institutions, including the level 3 biosafety laboratory. At the end of the visit, IrsiCaixa predoctoral researcher Irene González and Fight Infections Foundation physician Anna Peris gave a presentation on their respective professional careers, which served as inspiration for the students when choosing their future professions.