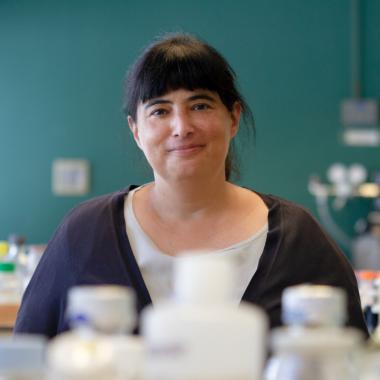 Nuria Izquierdo Useros
Team
Dr. Nuria Izquierdo-Useros (Madrid, 1976) leads a research group on emerging pathogens and microbial threats, whose main objective is to design new therapeutic tools to control the evolution of pandemics and to be better prepared for future health emergencies.
She holds a degree in Biology from the Autonomous University of Madrid and obtained her PhD in Immunology from the Autonomous University of Barcelona in 2009. In 2011 she did postdoctoral studies with Prof. Dr. Hans-Georg Kräusslich at the University of Heidelberg (Germany). There she contributed to the identification of Siglec-1 as a dendritic cell receptor involved in the capture of different viruses with a major impact on global health, such as HIV or Ebola. This research led to develop new antiviral drugs, including different monoclonal antibodies. In 2012, Dr. Izquierdo-Useros returned to IrsiCaixa and received one of the six international Mathilde Krim Fellowships in Biomedical Research, funded by amfAR.
Her current scientific interests focus on the search for novel therapeutic tools to combat emerging viruses. In a constantly evolving world where climate warming and globalization trends are changing the geographical distribution of viral diseases, her goal is to fortify and strengthen its preparedness against new threats such as SARS-CoV-2. She has actively research on antiviral strategies to stop the transmission and replication of SARS-CoV-2, its variants of concern and even future coronaviruses with pandemic potential. Since 2020, her team has published more than 25 scientific papers on SARS-CoV-2, presented 3 patent applications and participated in 2 clinical trials. They also collaborate with different pharmaceutical companies to evaluate antiviral compounds and vaccines against the coronavirus.