An IrsiCaixa project to diagnose and monitor infectious diseases, among the selected projects by the CaixaResearch Validate 2021 call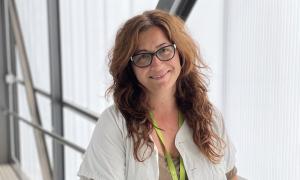 "la Caixa" Foundation will provide €100,000 to the IrsiCaixa project, which aims to establish a diagnostic tool to better identify infections caused by HIV, SARS-CoV-2 and Mycobacterium tuberculosis, as well as to predict their evolution
From a total of 97 projects submitted, the "la Caixa" Foundation, within the framework of the CaixaResearch Validate call, will offer financial and training support to 17 Spanish projects, including one from IrsiCaixa, led by postdoctoral researcher Marta Ruiz-Riol. The aim of the project is to provide society with a tool to improve the diagnosis and monitoring of infections caused by HIV, SARS-CoV-2 and Mycobacterium tuberculosis. The call, aimed at innovation projects in their initial stages, assigns a total of €100,000 to each of the projects to validate them at a technological level, and also to valorize them. In addition to financial support, researchers involved in the projects will receive specialized training from experts, consultants and entrepreneurs in the sector. All the projects have gone through an extensive selection process. In the first phase, the proposals are evaluated by professionals in the field of life sciences and health, as well as from the business world. In a second phase, the leaders of the top-scoring projects present their projects to a panel of European experts from different fields. Throughout the selection process, the criteria taken into account range from the quality of the science and feasibility of the project to its social impact.
"Receiving this funding and support will be a great push for our project, and we couldn't be happier", celebrates Ruiz-Riol. "We are now at a key moment since, after having developed and patented a technology capable of diagnosing and monitoring different infectious diseases, the next step is to validate it at the clinical level and bring it to the market", she adds.
Improve diagnosis, predict progression and monitor response to treatment
In order to obtain relevant clinical information on diseases caused by infectious agents such as HIV, SARS-CoV-2 and Mycobacterium tuberculosis, tools such as flow cytometry are very useful. "The use of flow cytometry is widespread in biomedicine as it allows the measurement of the characteristics of immune system cells, among others", explains the IrsiCaixa researcher. "Since T lymphocytes, cells of the immune system, generate specific functional responses against pathogens, this allows us to diagnose and monitor diseases", she adds.
However, the current procedures applied to characterize the functional responses of specific T cells are limited. "That is why, within our project, we have developed and patented a flow cytometry methodology that better characterizes the functions of immune cells, which are in charge of fighting pathogens", she justifies. "With this new methodology, therefore, we would be detecting cellular functions that have been ignored until now and that play a fundamental role in the regulation of diseases", she adds.
The objective from now on, and thanks to the CaixaResearch Validate 2021 grant, is to achieve clinical validation and establish a commercially viable diagnostic tool to better identify infections, predict disease progression and monitor response to treatment.