The director of IrsiCaixa Bonaventura Clotet is awarded with the 2020 'Premi Nacional de Recerca'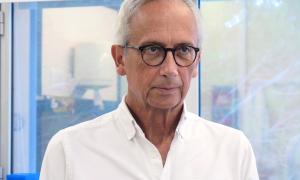 The 'Premi Nacional de Recerca' recognizes the scientific progress carried out by researchers throughout their career. The award granted to the director of IrsiCaixa highlights his research of international scope for more than 40 years in the field of infectious diseases, especially HIV.
In its 31st edition, the Government of Catalonia and the Catalan Foundation for Research and Innovation (FCRI) have awarded ex aequo with the 'Premi Nacional de Recerca' 2020 to the physician and infectiologist Bonaventura Clotet, director of IrsiCaixa, and the mathematician specialist in robotics and artificial intelligence Carme Torras.
The 'Premi Nacional de Recerca' honors the researcher who has contributed significantly and internationally during their career to the advancement of a scientific discipline in any of its fields: human and social sciences, life and health sciences, engineering and technology, and experimental sciences.
Bonaventura Clotet received the award for his international research over more than 40 years in the field of HIV and related diseases, which positions him as one of the most important international researchers in the development and application of therapeutic strategies for the eradication and prevention of AIDS. Clotet is a doctor of Medicine, director of the IrsiCaixa AIDS Research Institute, head of the Infectious Diseases Service at the Germans Trias i Pujol Hospital, president of the Fight AIDS and Infectious Diseases Foundation and director of the Chair of Infectious Diseases and Immunity at the UVic-UCC. His research on HIV, dedicated to finding a cure for AIDS and with a firm commitment to improving the quality of life of patients and fighting the social stigma associated with the infection, has always gone alongside the promotion of new research funding strategies, from philanthropic activities to the creation of public and private research consortia.
Bonaventura Clotet, a life dedicated to the fight against AIDS
Dr. Clotet received his MD (1976) and his PhD (1981), with a thesis on autoimmune diseases, from the Autonomous University of Barcelona (UAB). That same year, his internship as an Internal Medicine specialist at the Vall d'Hebron University Hospital in Barcelona ​coincided with the first AIDS case reported in Spain.
This case was the catalyst for a career dedicated to this serious disease, first as head of the HIV Unit of the Germans Trias i Pujol University Hospital in Badalona (1987-2015) and then as founder and president of the Fight against AIDS Foundation (1992).   
Dr. Clotet soon saw the need to go a step beyond patient care to conduct research aimed at eradicating AIDS. In 1995, with the support of "la Caixa" and the Department of Health of the Generalitat of Catalonia, he founded the IrsiCaixa AIDS Research Institute, which he still heads.  
He is also head of the Infectious Diseases Unit at the Germans Trias i Pujol University Hospital and, scientific advisor to two IrsiCaixa spin-offs: Aelix Therapeutics SL and AlbaJuna Therapeutics SL.