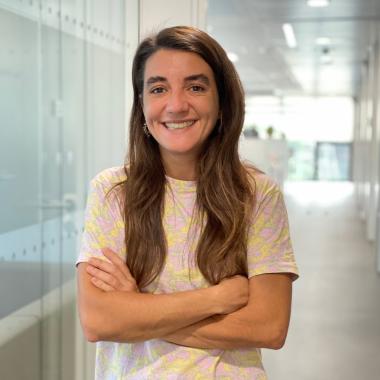 Julieta Carabelli graduated in Animal Facilities in 2005 at the University of Buenos Aires and worked as a technician at the Alfredo Lanari - Institute of Medical Research (IDIM, University of Buenos Aires, Argentina). In 2010 she graduated in Biological Sciences (studies of Molecular Biology and Genetics) with a Diploma of Honour from the Maimonides University (Argentina). She completed her final degree project, entitled Role of mitochondria in fatty liver disease: evaluation of mitochondrial DNA content and the expression of genes that regulate its biogenesis, at the IDIM Molecular Hepatology Laboratory, under the direction of Dr. Sookoian and Dr. Pirola.
In 2011 she started a PhD in Molecular Biology and Biotechnology at the National University of San Martín (Argentina), funded with a grant from the National Council of Scientific and Technical Research. She carried out her thesis, entitled Participation of Galectina-8 in the induction of the immune response, at the Molecular Immunology Laboratory of the Dr. Ugalde Biotechnological Research Institute, under the direction of Dr Campetella and Dr Tribulatti. After obtaining her PhD in 2016, she continued as a post-doc at the same laboratory until mid-2019. She combined her work there with university teaching, scientific dissemination events and the co-direction of 2 final degree projects. She has also been examiner for doctoral thesis on several occasions.
In October 2019, Dr. Carabelli joined IrsiCaixa as a post-doc of the VIRIEVAC group, led by Dr García-Prado.